Starship Endeavor
http://www.potemkinpictures.com/
Golden Age Film; Series (Drama) — Birmingham, Alabama, USA
The adventures of the Starship Endeavor and the eyepatch-wearing Captain Zachariah Houston, in another series set in the same time and universe as Project: Potemkin.
Episodes
The Gift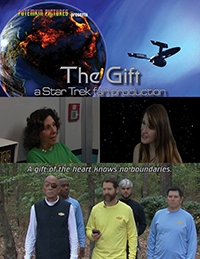 Season 1 E01-1 — 12min 53sec — 18 July 2017
The crew of the U.S.S. Endeavour have happened upon the famous missing ship, the Geschenk. But what is the ship doing out so far from Federation space, and what has happened to its crew?
YouTube: https://www.youtube.com/watch?v=qpVbVxIxALM
Vimeo: https://vimeo.com/226228066
Current Production Notes
Episode 2, "The Monolith" is in pre-production as of November 2017.
More from Potemkin Pictures
Potemkin Pictures also created Starship Tristan, Battlecruiser Kupok, Starship Deimos, Project: Potemkin and Starship Triton.